This post is mainly about y'all helping me!  So far, I haven't purchased much in the way of maternity clothes or pregnancy related stuff, but I have bought a few things, and I've got a few more on my wish list.
Namely, I've purchased two pairs of nice maternity jeans.  First, I ordered this pair of pull-on toothpick maternity jeans from J.Crew.  I had a $25 off gift card for my birthday, so between that and the sale (call to order instead of online and they'll often let you use multiple promo codes!) they weren't really all that expensive, they're super comfortable, and with the low rise, are supposed to be great for after baby as well.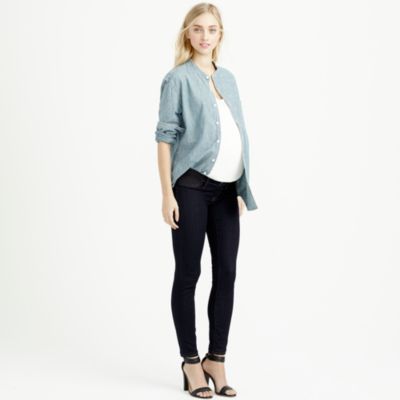 I also ordered this pair of AG Jeans on sale from A Pea in the Pod.  They're REALLY cute on, and have a nude-toned full panel, which I think is nice for wearing under light colored shirts compared to the dark navy or black panels on most full panel maternity jeans I saw.  Of course, as are all designer jeans, they were much too long for me, so I needed a solid 4 or 5 inches chopped off and they're still at the seamstress's currently.  But I'm ready for them to get back!
I figure that will last me this entire winter pregnancy as far as jeans go.  I am wearing my  yoga pants an awful lot these days currently, because although my regular jeans still fit, they are really uncomfortable while I'm sitting down, so I decided to go ahead and bite the bullet and get a couple nice pairs of jeans and go ahead and start wearing them now rather than attempt all the sorcery I see on Pinterest trying to make regular jeans last as long as possible (rubber bands through belt loops, tube tops over unbuttoned jeans, etc.).  I'd prefer to be really comfortable in nice jeans that fit and that I feel good in and just wear the hell out of them, compared to many ladies who seem to do everything in their power to avoid graduating to maternity jeans.  Why wait?  They're are super comfortable already, and I cannot tell a lie:  I'm pretty pumped that I will have stretchy pants to wear for the Holidays.  #perksofpregnant
Other than that, I bought the same top in three different colors at Target, and that's it.  I did just order this Tart Maternity Essentials Set from Nordstrom this week, and I can't wait for it to get here!  but apparently they were already out and cancelled my order!!   The reviews are great, it's supposed to the super soft jersey knit, and these pieces will be really, really functional for work and play and more… so (edit) I'm extremely bummed that it's sold out.
On to Plan B: My next purchase may be a pair of Ingrid & Isabel yoga pants, everyday maternity leggings, as well as their ponte knit pants for work.  I also really like their Midi Maternity Skirt and the Ruched Maternity Tank Dress.  The Ingrid & Isabel brand has insanely awesome reviews on both Nordstrom's, Amazon, and blog posts, so this is where I'm heading next.
I've got a couple of things besides clothes I'd really like to see in my stocking this Christmas that I think any pregnant (or not pregnant!) lady would love, too.  Hint, hint, sweet Wheat!
I have been eyeing these Swell bottles for ages, but now that I'm knocked up, I guzzle more water than I ever thought humanly possible.  I would feel significantly more fancy if I was carrying around this Sparkling Champagne Swell bottle!  So pretty… and the 25 ounce size holds an entire bottle of wine while keeping it cold for hours. Water now, wine this summer.
I end up wearing my Minnetonka Women's Short Pug Boot
s
around the house as my "slippers" in the winter, and I love them!  But, I melted the sole of one of them by the fire a couple years ago, and I'd like a pair of actual cozy slippers that look a little nicer in case someone stops by… especially since I can't slip into a cozy glass of red wine these days.  Hence, I'd like a pair of these Minnetonka Moccasins Women's Kayla Slipper
s.  They're not crazy expensive, but they are crazy cozy.
Speaking of cozy..
Can you tell I really just want to be lounging around in cozy things by a fire?  I think these cable knit slipper socks (or something similar) would also be a great gift.
Something I never thought about before becoming pregnant: you spend a ton of time in your pajamas, and even more when you're in the hospital and then home with a baby.  Comfort is key, and I like to still look nice, even when lounging at home.  I LOVE this Amoralia Seamless Maternity Nightgown and matching robe at Nordstrom.  I love anything navy, and it sounds really soft and pretty.  The fact that the nightgown is nursing friendly for later on seems like a perk, too.  I also really, really like the pajama gift sets they have at Nordstrom's.  They even include a little matching PJ for baby!  I love this one in navy and white.
So my question to y'all is: What could you not live without while you were pregnant?  It can be clothing-related or not.  What do I need to buy?  What should I look for?  Favorite preggo leggings or pre-natal vitamins?  Favorite gift to give to someone who is expecting?  I used to try to give gift certificates for a pedicure… and I still think that's a great gift, too!
Or just leave a comment with a funny craving you had while you were pregnant or something.  I love hearing those!
PS this post wasn't sponsored by Nordstrom, and I swear I don't get a single kick back from them.  I just really like shopping there because they're shipping policies and return policies are wonderful, they have excellent customer service, and a large variety of brands… especially in the maternity department! Basically – it's all just stuff I like and want!  I'd take anything similar, Santa, if you're reading.